DHI Cooperative is a certified BioPRYN® Lab
BioPRYN® (Pregnancy Ruminant Yes/No) is a pregnancy detection procedure in ruminant animals such as cattle, sheep, and goats. It measures the presence of Pregnancy-Specific Protein B (PSPB) in the blood circulation of the animal. The PSPB is a protein produced by the placenta of the growing fetus.


BioPRYN® begins with collection of a blood sample from the animal. The samples are then shipped to a laboratory where an enzyme-linked immunosorbent assay (ELISA) is performed. Results may be delivered via e-mail, fax, mail, or via phone call.


The livestock producer or veterinarian should draw blood samples from the animal(s) at the correct time after breeding. This timing ensures the accuracy of the BioPRYN test.


Cattle: At or greater than 28 days post breeding and 73 days post calving.
Heifers: At or greater than 25 days post breeding.
Goats and Sheep: At or greater than 30 days post breeding


For those that already have blood collection supplies, all that is needed is the submission form:
Click here to download Submission form


Frequently Asked Questions - BioPRYN


BioPRYN Sampling and Shipping Instructions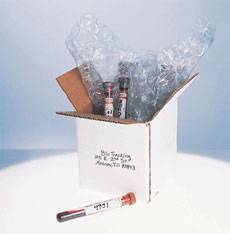 BioPRYN® test kits (for Cattle, Goat, and Sheep) include 18" x 1" needles, Vacutainer® tubes, one needle holder, a submittal form, tube labeling instructions, frequently asked questions, and mailing instructions. You can also prepay for your testing at our Lab when you order your kit. You may even reuse the box we shipped the kit in to send samples back to us!
DHICoop.com Web Store Special
All prepaid orders include the analysis and the collection kits.