Johnes - Cattle ONLY
DHI Cooperative Inc. can test for Johnes on either existing DHI milk samples, a milk sample that you provide, or blood samples. We can utilize the same blood submitted for bioPRYN for the Johnes test – simply indicate "Johnes" in the added test column of the bioPRYN submission form.


If sending a sample (blood or milk) for Johnes only, obtain the submission form from the link below.
Click here to download Submission form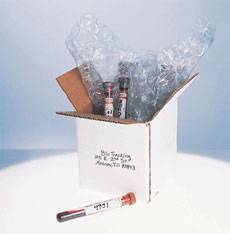 Johnes test kits (for Cattle ONLY) are $6.00 per sample (milk or blood). These results are confidential between the lab and the producer.


All sales are Final. We do not accept returns of the Blood Test Kits for refunds or credit.

DHICoop.com Web Store Special
Purchase a prepaid 10 or 20 tube kit with prepaid testing and get the collection kit at no charge.