PCDART
Development on the DART (Direct Access to Records by Telephone) program began in 1979 when immediate access to data via modem was still a new concept on farms and many users had terminals rather than personal computers. Producers needed comprehensive information fast and needed it updated more than once per month after test day. Over the years, DART expanded to PCDART and addressed the need for better information (reproductive/health changes, bST, prostaglandin, body condition scores, heifer growth, herd trend graphs, and cow scatter plots) and the need for faster delivery (downloads and e-mail).
With the recent release of 
PocketDairy
, we have also addressed the need for different avenues of input (handheld as well as desktop and laptop computers). PCDART 7, with users in all aspects of the dairy industry (producers, heifer growers, consultants, veterinarians, DHI technicians, and extension specialists) is an essential tool for profitability in the 21st century.
Using RFID (Radio Frequency Identification) with PocketDairy and PCDART improves management and accuracy immediately! It's very easy to get the system up and running. 
PocketDairy and PCDART with RFID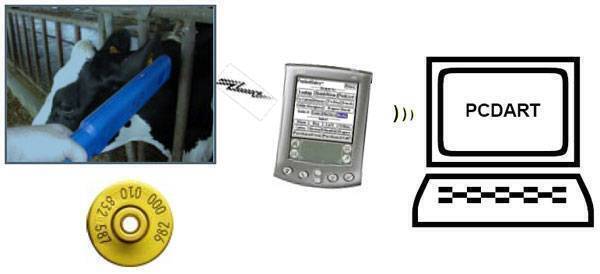 PCDART features include:

Fast and easy input procedures for cows, heifers, young bulls, sires and service sires. 
Over 50 pre-loaded management reports as well as powerful report creation and printing features. You have complete control over which animals appear on a report by setting ranges for traits, and you can select from more than 600 database items for each cow.
Quick access to individual "cow page" showing current test day data, reproduction data, lactation history, lactation curve and more. "Heifer pages" are also included to check ID, vaccinations, etc.
Extensive health data for cows and heifers. 
Flexible regrouping procedures. 
Comprehensive inventories, projections and summaries. 
Interfaces with most automated milk weighing systems. 
Comprehensive graphic features allow analysis of individual cows, groups of cows or herd trends. 
Data can easily be directed to other software such as CTAP. 
Supported by local DHIA staff and DRMS staff is available when needed. 
Please contact any of our area representatives to discuss our products and service, and find out more about what we have to offer.