PocketDairy
Make Your Records work harder for you. Take them with you wherever you go! 
A computer with each animal's data on it that fits in your pocket?
 Yes, a handheld unit with PocketDairy has everything for decisions, always up-to-date, right in the palm of your hand! PocketDairy works with popular Pocket PC regular models (as shown at right) and ruggedized units (below right) as well as units with the Palm Operating System (below).
Look up information cowside:
 calving date, days in milk, lactation number, group number, current/previous milk wt., SCC, date to dry, date to calve, days since bred, health information, and more! At vet checks, answer the vet's questions about a cow's health history with just a tap on the cow's identity. PocketDairy can be used on multiple handhelds so all of your key employees can have access to the information they need, no matter where they are on the dairy!
Input everything right on the handheld unit:
 Why write it down and reenter it later? 
Tap it right into PocketDairy: cows in heat, cows for vet check, change group number, flag lame or sick cows; even put in calving, dry or breeding dates (recommended service sires are stored). Push one button to transfer the input to your computer or your DHI technician's computer on test day.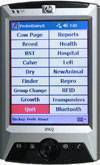 Accepts Scanned Identification from RFID tags:
 Link a portable wand with PocketDairy to quickly locate cows of interest in a group, see or hear (!) the pending tasks as each animal is wanded, quickly find cows turned into the wrong pen. The system complies with National Animal ID System (NAIS) requirements.
Integrate PocketDairy with the 
PCDART
 management system on your desktop computer. OR, you can have just the handheld unit as your only computer, and PocketDairy as your only management system! Your technician updates the data in the handheld each test day - even the current test day milk weights - right after your test. 
Please 
contact
 any of our area representatives to discuss our products and service, and find out more about what we have to offer.